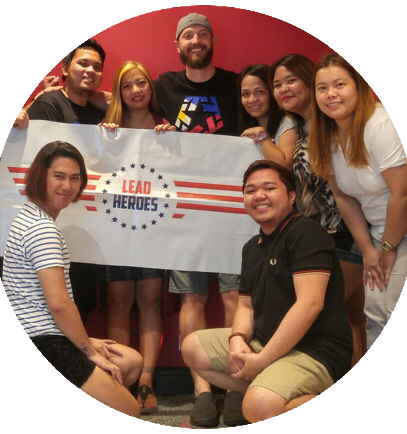 Meet the Heroes 
Established in 2015, Lead Heroes started with just 1 caller making phone calls. We tried hiring people from all over the world: Jamaica, Pakistan, India, Mexico and hands down the best callers we hired were from the Philippines! 🇵🇭
Since then, our team here in the Philippines has grown to more than 50+ full time employees all working 100% virtually from home.
Honestly, one of the things that I love the most with Heroes is the love and care of the management, which I did not experience from my previous job.  So based on my own observation, it felt totally different working here with Heroes because they really do care for you and they really listen to you.  Another good thing about working here is we are not only working in one project or campaign.  Here you will get to work in many projects with no pressure.  Instead, you will feel even more excited to work for it because you will surely not end your day with nothing.  Once you become part of this family, it'll be hard for you to let go of this job because of the good relationships you will build in the company.  I'm very lucky because working from home, I do not need to spend an hour commuting each way to work and I can save money on food since I can easily whip up my own lunch and coffee. I highly recommend this job to those parents who cannot leave their children at home.  I'm a mom of two kids and I'm able to take care of my kids and multitask my duties as a mom while working from home as an agent.
I've been in the call center industry for almost 8 years now. 6 years in the company (center/site) then almost 2 years in home-based. My friend encouraged me to work at home, I grabbed the opportunity, provided all the required materials asap. My experience in site-based is very different in home-based, it's very convenient for me, I have a lot of time to spend for my family, no need to get through the long travel hour, I can save money on food and fare. While I am enjoying my journey as an agent for more than a year, opportunity knocked again. I have been chosen as Team Leader and it's an honor for me to be part of the management. I am now on the new chapter of my journey continue striving, learning, improving and hoping to inspire more agents here in Lead Heroes.
Working from home gives me the flexibility to work at my own space and pace. Considering the traffic in the metro those few hours stuck in the traffic, the time you have to prepare to get to work, the dragging yourself to get up at least 2 hours to get ready to the office, all of these hassles and time wasters were spared when I decided to work from home. Those extra time spared I use to do other productive things like going to the gym, do extra work or business, learn some new things etc. And the best part, you get to work anywhere you would want to (as long as there is stable internet) and the time freedom to achieve work-life balance.
What Our Agents are Saying…
We specialize in lead generation for Senior Insurance.  We make outbound calls and help identify Seniors in the U.S. that qualify to save some money on their current insurance.  We mark those that qualify as a "lead", and then a U.S. based Insurance Agent will give the Senior a call back.
Simple.
No collecting credit card info.
No harassing people to buy a cheap product.
INITIAL PROCESS     
 Question: I am a Filipino living outside the Philippines, can I still apply?
Answer: Yes, as long as you have a stable internet connection (wired), an up to date suitable computer, a USB headset, and relative/s here in the Philippines with BDO or BPI bank account (for salary), then you can apply.
 Question: How long is the probationary period?
Answer: The probationary period is 1 week.  If you are able to genereate revenue for the company, then you will be put on payroll as an official employee.  As long as you're able to generate leads and remain profitable to the company, you will stay with us.
 Question: Is this a long-term or short-term job?
Answer: This is a long-term position.
 Question: What are the requirements to get started?
Answer: An up to date suitable computer, stable internet connection with a minimum speed of at least 3mbps, USB headset, and a working environment free from any interruption.
 Question: What if I didn't pass the interview?
Answer: You can re-apply when we are hiring again.
 Question: What is the work schedule?
Answer: Work week schedule is from 10:00 pm to 6:00 am (Philippine Time).

Note: After DST (Daylight Saving Time) it will change to 11:00 pm to 7:00 am Philippine Time.
 Question: Is this a Full-time or Part-time job?
Answer: This is a Full time job. We don't offer any part time positions as of this moment.
 Question: What is the rest day/s?
Answer: Saturdays and Sundays will be the rest days. Sometimes, we offer the opportunity for agents to work on Saturdays, but it is optional.
 Question: How are you going to track my working hours?
Answer: We will provide you with a tool that needs to be installed on your computer to track your hours and activity.
 Question: Is there any training? How long will it take? Is it paid?
Answer: Yes, we will provide a video course that will walk you through everything you need to know to be successful.  Then we will have a brief discussion about our campaigns and answer any questions you may have. However, there's no paid training. Training will only take a few hours. We will provide you a link to get started with the video training.
COMPENSATION    
 Question: Am I paid hourly or a fixed rate?
Answer: Hourly rate. Rate will depend on your work experience.
 Question: Is there any commissions or bonuses?
Answer: We provide daily spiffs, bonuses, and incentives.
 Question: What currency am I paid in?
Answer: You will be paid in the Philippine Peso. (PHP)
 Question: Do we have paid over-time?
Answer: No, for every hour(s) you spend working with us, you will be paid accordingly.
 Question: Do we have paid holidays? How about 13th month or 14th month pay?
Answer: Since this is a US-based company, we follow the US holidays. It is our client's discretion if they would like us to work during the holiday or not. We do not offer 13th or 14th-month pay. 
 Question: Are there any benefits such as HMO, internet, or electricity allowance?
Answer: Unfortunately, we do not offer this anymore.  We are hoping in the future to help pay for your SSS, Pag-Ibig and Philhealth.
 Question: How and when will I get paid?
Answer: You need to have a bank account in the Phillipines.  Most common banks are BDO or BPI.  Payout will be the 15th and last day of the month.  
 Question: What do I do if I would like to resign?
Answer: You need to submit a letter of resignation (via email) and are required to render at least one week notice.
 Question: If I get terminated due to low performance or attendance, can I still re-apply?
Answer: Yes, you can re-apply. Returning employees are subject to objective evaluation and approval.
 Question: If I get terminated, will I still get my remaining salary?
Answer: Yes, you can still get your remaining salary as long as you were able to generate revenue and be profitable to the company.  If you were not able to generate profit for the company, you may receive a reduced final salary.  You will not get any (remaining) pay if you are tagged as AWOL (Absence Without Official Leave) or; incurred two (2) consecutive NCNS unless you talk to us with a valid reason and supporting documents of your absence.
Leads Generated this Week
300+ Campaigns Dialed this Year
No worries...
We'll Train You
We'll Be There Every Step of the Way
We know that starting a new job, especially a home-based one, can be challenging.  That's why we put together our very own video course that will have you trained and ready to go in just a few hours. 
Talk With a Recruiter
A member from our team will contact you!
Interview
Let's chat and see if this position is a good fit. 
Get Trained
You'll go through our training process and in just a few hours, you'll be ready to start calling!
Send us an email.  We'll get in touch ASAP.